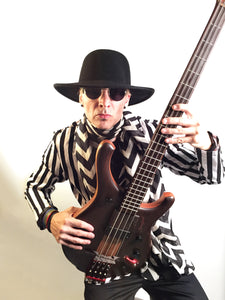 FREEKBASS
Freekbass is a master funk bassist, known for his technical virtuosity and dynamic, infectious live performances.  Freekbass was born in Cincinnati, Ohio and honed his chops at an early age in the local music scene, one that is known for producing a long list of legendary funk musicians such as Zapp, Bootsy Collins, The Ohio Players, and Midnight Star.  After graduating from The School for Creative and Performing Arts, Freekbass formed the very successful national touring band, Shag and eventually his own band, Freekbass.
Freekbass brings to the stage monster grooves that showcase his superlative technical ability, master showmanship and solid musical sensibility.  Freekbass has played onstage and recorded with a multitude of notable musicians including Bernie Worrell, Victor Wooten, DJ Logic, Bootsy Collins, Mike Gordon, and Buckethead.  Legendary funk icon Bootsy Collins calls Freekbass "The new Spiritual Warrior for the Funk".
Freekbass has released five CDs, and a live DVD, and has garnered glowing reviews in the magazines Bass Player and The UK's Bass Guitar Magazine.  Freekbass continues to maintain a student roster and has released several instructional DVDs.  Currently he tours with his funk ensemble, "Freekbass & The Bump Assembly" including members of Bootsy's Rubberband, George Clinton and P-Funk.
"Bringing the Funk into the Future" is the mission-statement of Freekbass.
Freekbass is an endorsing artist for Gallien Krueger, D'Addario Strings, Stonefield Musical Instrument Company, Pigtronix, MXR/Dunlop and Momo.
---