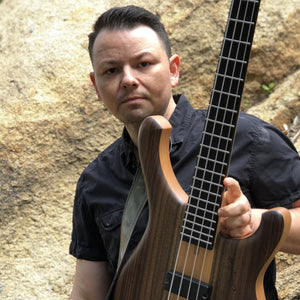 JD Short
JD Short is a bassist and composer who is known by the musical persona BassDbler (bās dŭb'lər).  Originally, from Indiana, JD cut his teeth playing the Midwest's independent music scenes before focusing on formalized musical training at the University of Evansville and Indiana University Bloomington, after which he moved to California for a role building basses and guitars at Rickenbacker.
While based in California, several musical collaborations, including a stint with the Orange County Avant Garde Jazz Ensemble, ensued before JD relocated to Auckland, New Zealand where his interest in electronic music began to solidify.  By the time he returned to California, JD had realized that electronic music spoke to his DIY nature.  This realisation gave rise to new understandings and musical explorations, resulting in the debut of his Dune-themed concept album, Slow Blade Penetrates the Shield.  The follow-up album, Machine & Ghola incorporates more acoustic sounds alongside the electronic soundscapes.  A BassDbler performance is an engaging sonic experience, often described as cinematic trip-hop.  BassDbler has shared billings with bass luminaries including Freekbass & Steve Lawson and is currently playing shows supporting JD's third album, The Universe Is Ours.
JD Short composes and plays all of the parts for each album and also composes music for video games, short and feature-length films and serves as the Music Director for the Giant Fire Breathing Robot website and family of podcasts.

JD Short is an endorsing artist for Eden Amplification and Stonefield Musical Instrument Company.


www.bassdbler.com
---