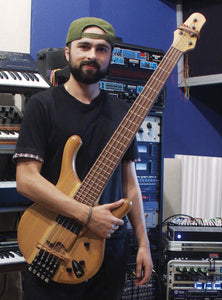 Santiago Gonzalez
Santiago González is the founder and bassist of The Bará Group and is also the group's composer and arranger.  He has had a broad career in music beginning at the age of eight in his hom,e country of Colombia where he played gospel music in local churches and joropo festivals.
Over time he began to travel and play in churches in the United States and festivals and events in Colombia.  He was the winner of the "XXX International Jazz Festival of the Free Theater", one of the most important festivals in Latin America, with his compositions and new genre "Joropo-timba-jazz fusion" played at the festival by The Bará Group.
During his career he has recorded more than 200 tracks and in 2018 he recorded 4 albums: one for the great saxophonist and Verve Records (Universal Music) artist Gianni Bardaro, a duo with the recognized Meinl Percussion artist Fabio Ortiz, another with the recognized Colombian pianist Alex Pastrana and his first album as a soloist, called Bará, with The Bará Group.
Santiago is now living in Los Angeles, CA and is an endorsing artist for MEE Audio and Stonefield Musical Instrument Company.
For more about Santiago Gonzalez see his Instagram profile at @sgonzalezbass, his Facebook page sgonzalezbass and his YouTube channel at Santiago Gonzalez Bass.
---